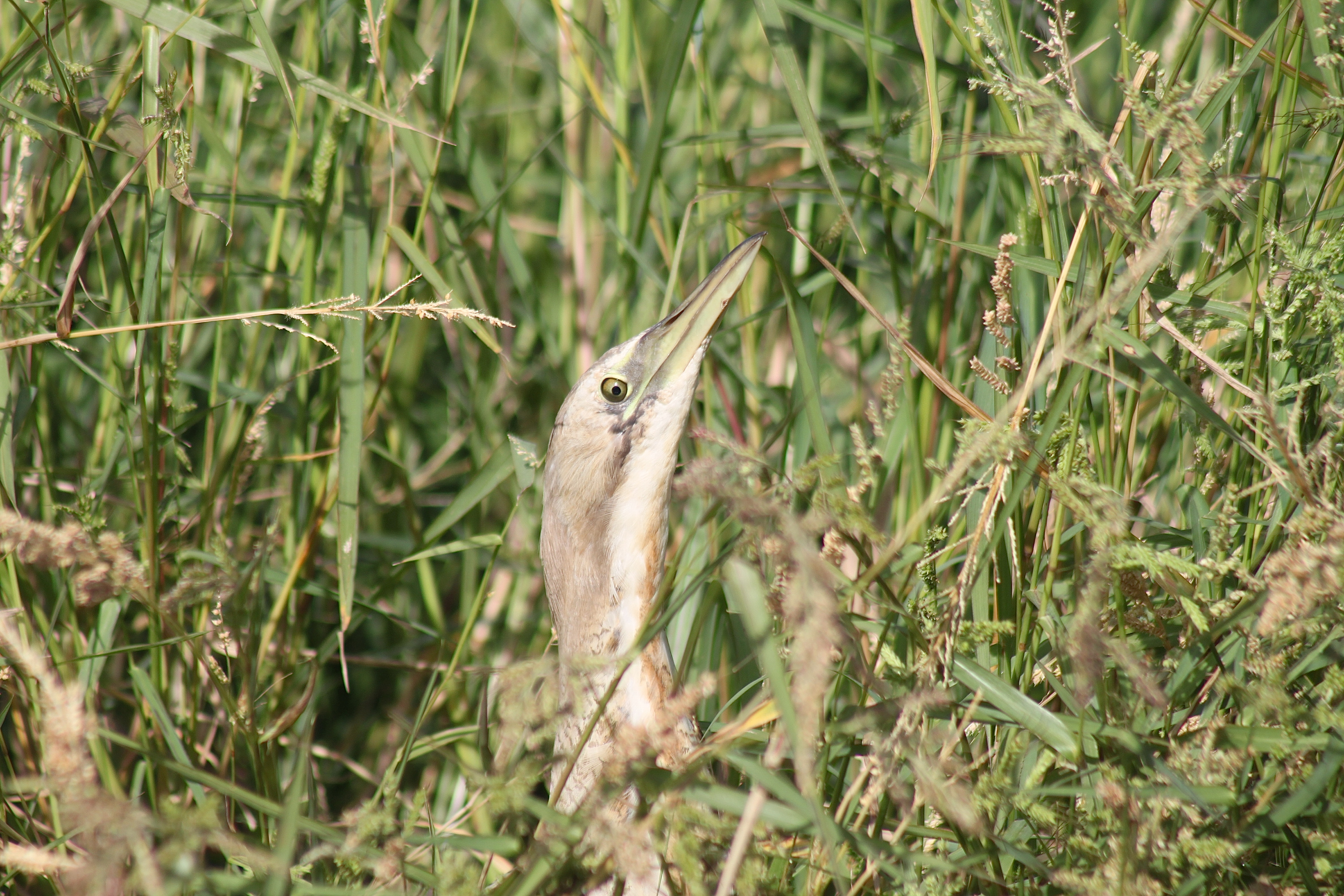 The season's first baby bitterns are thriving. They keep their Mums very busy delivering tadpoles, carp and other tasty morsels. Meanwhile, the last of our annual random farm surveys for the season are going well, with plenty of bitterns being recorded. We'll have to wait to formally analyse the data, looking at occupancy, abundance and detectabilty, along with the total rice crop area, but it looks like the Riverina's rice crops might have attracted over 1000 bitterns this season! Their nests are never easy to find but in addition to those staggering numbers, we have good reason to believe there are also many hundreds of bittern chicks presently in the Riverina's rice crops.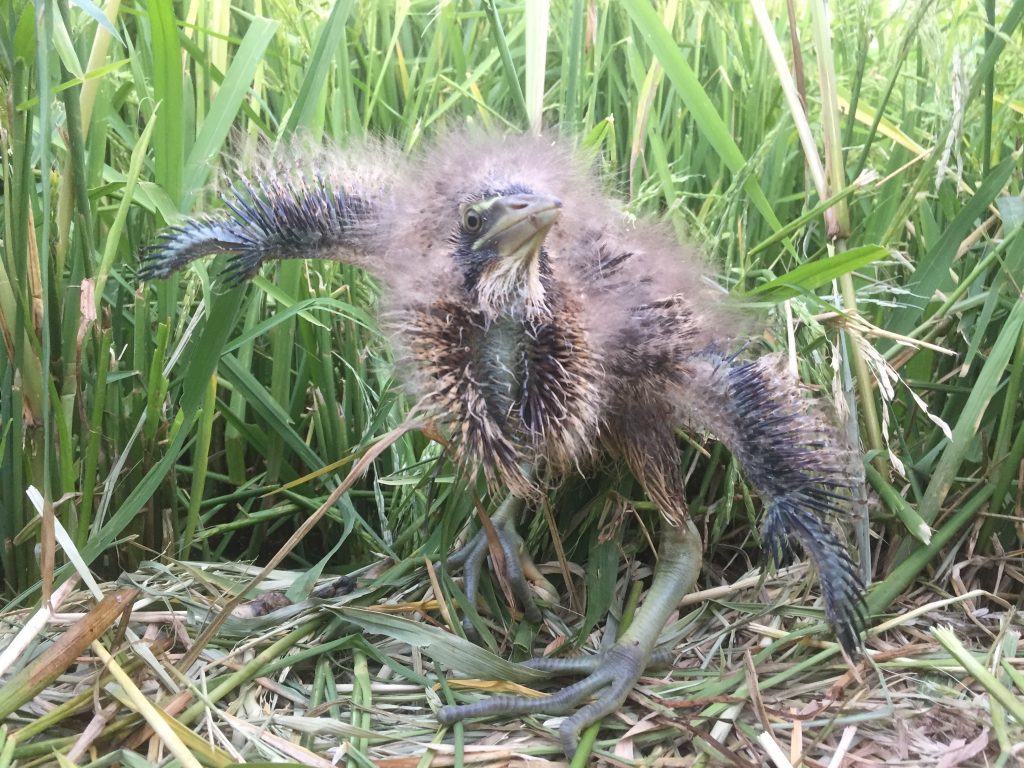 This gorgeous specimen was one of at least three chicks hatched from the 'random' nest at Murrami, near Leeton.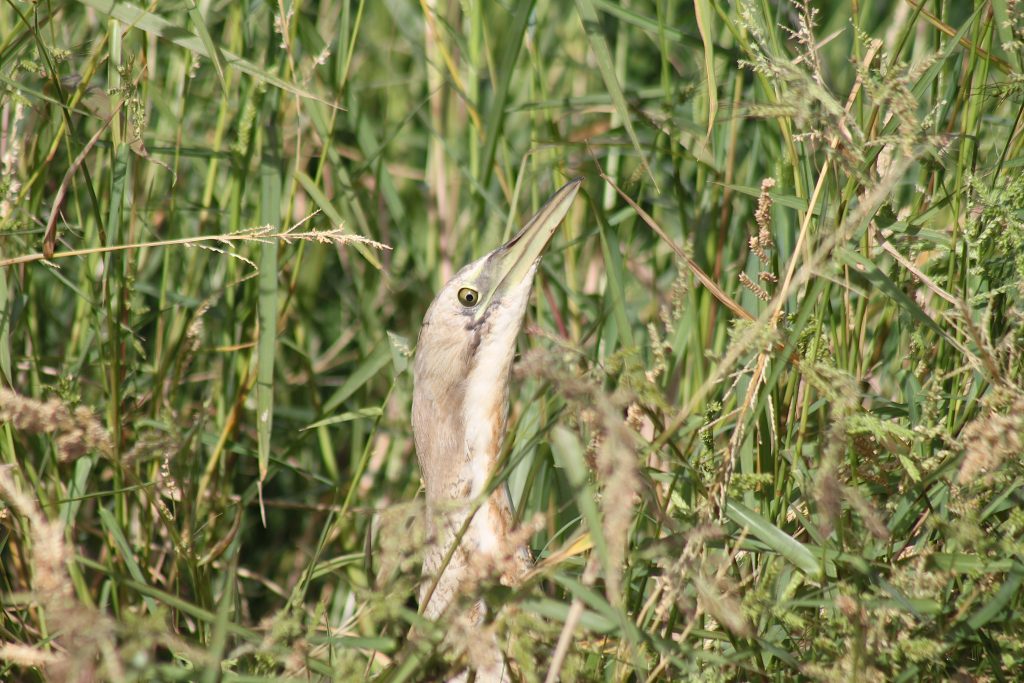 The reward at this Wilbriggie random farm was a stunning juvenile found beside the track. Huge thanks to all the Riverina's rice growers who make our annual random farm monitoring possible.
Federal Minister for Environment and Energy, Josh Frydenberg, and Threatened Species Commissioner, Gregory Andrews, recently launched The Threatened Species Prospectus. The idea is to garner additional support for threatened species, particularly from the private sector. Among the 20 bird species being targeted under the Australian Government's Threatened Species Strategy is our beloved bittern and the prospectus outlines a target of $450 000 over three years, primarily to support rice farmers to help conserve bitterns (see below). We're chuffed at this exciting possibility that will build on our 'highly successful' project.
Our project was also recently featured on the National Farmers' Federation blog: Rice-friendly Bittern Farming and we'll be at the International Temperate Rice Conference in Griffith this week to talk about how our work can help to depolarise water resource management and address false dichotomies like farming and conservation. We're pleased to be able to organise for our friends from California, Khara Strum at the Audubon Society and Kristin Sesser at Point Blue Conservation Science, to attend the conference and present on their inspiring work that we visited in 2015. We then look forward to returning the favour by showing them around the Riverina's rice fields and other wetlands. We hope the bitterns cooperate.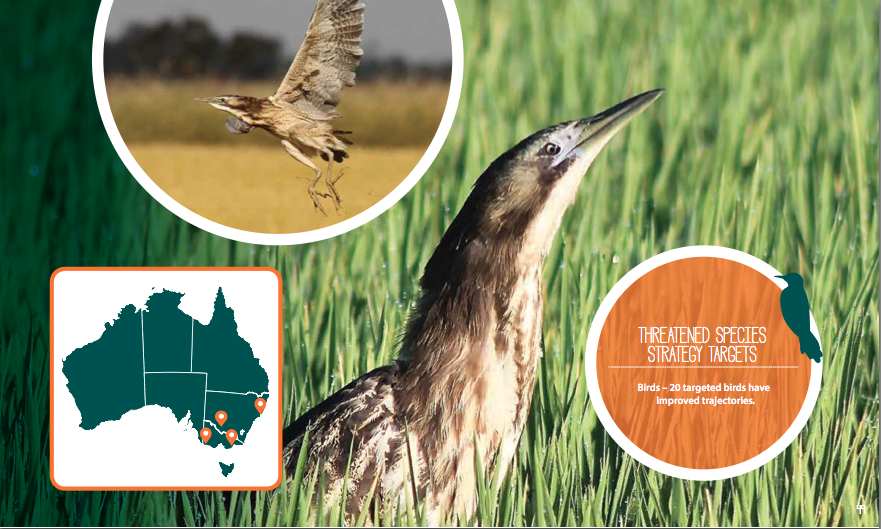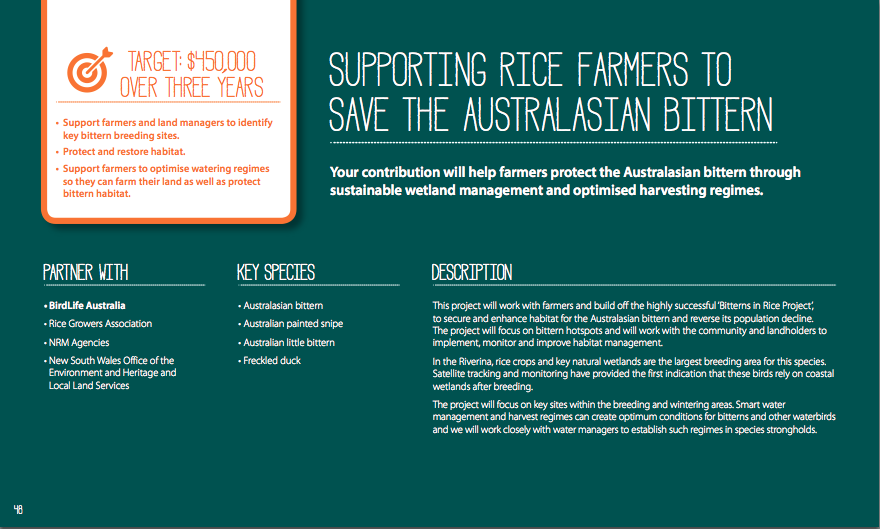 The Australian Government's Threatened Species Prospectus includes a target of $450 000 over three years for the Australasian Bittern, including a major component to support rice farmers. 
Nankeen Night-herons are beautiful waterbirds but they can fool even seasoned bittern admirers. In particular, seeing immatures at a distance can lead to mistaken identity. We are receiving records almost every day, and sometimes three or four times a day, of Nankeen Night-herons thought to be bitterns. The night-herons have had a bumper breeding season and there are more than usual getting around. Below you'll find some images of Nankeen Night-herons to help get your eye in. They are much smaller than Australasian Bitterns, often occur in groups and tend to roost in trees. The white spots on the wings of the immatures are not present in bitterns. In rice fields, you're highly unlikely to see a night-heron with its head poking up above the rice like a periscope, which is characteristic of a bittern, and they do not make the booming call.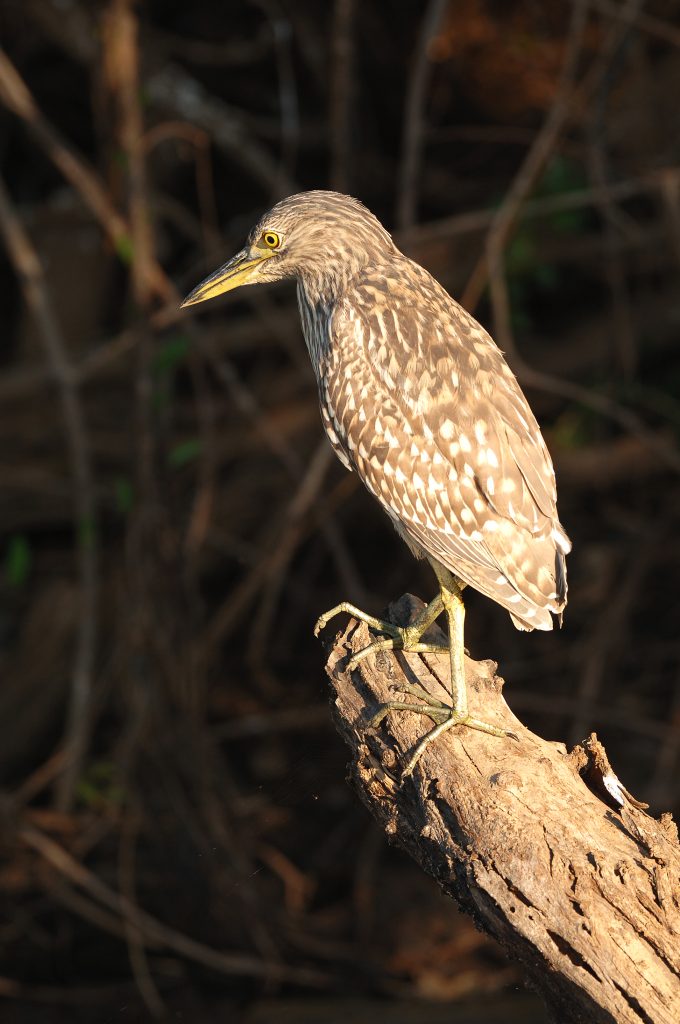 Immature Nankeen Night-heron. Photo by Peter Merritt.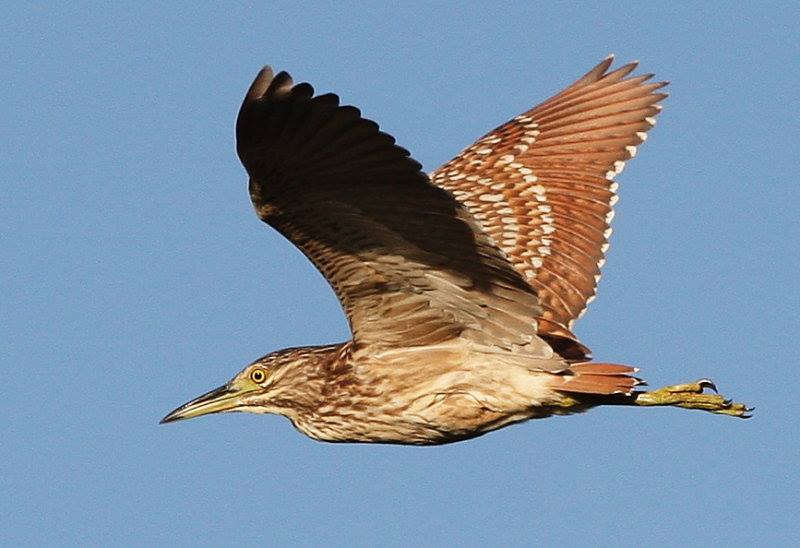 Immature Nankeen Night-heron in flight. Photo by Tony Ashton.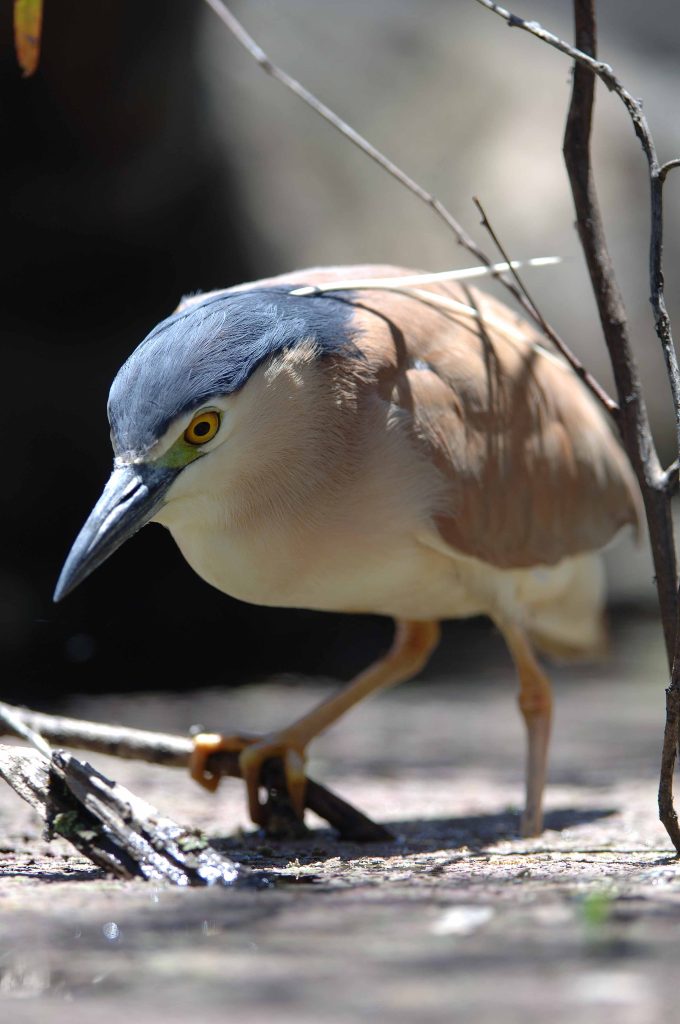 Adult Nankeen Night-heron. Photo by Peter Merritt.