We have good news, fresh from the Riverina's rice fields. Our first season of bittern-friendly rice growing incentives has been successful. It's all thanks to the efforts of rice growers and Riverina Local Land Services, supported by funding from the Australian Government's National Landcare Program. The ultimate aim is to develop a program funded by consumers that pay a premium at the supermarket to support wildlife-friendly rice farming.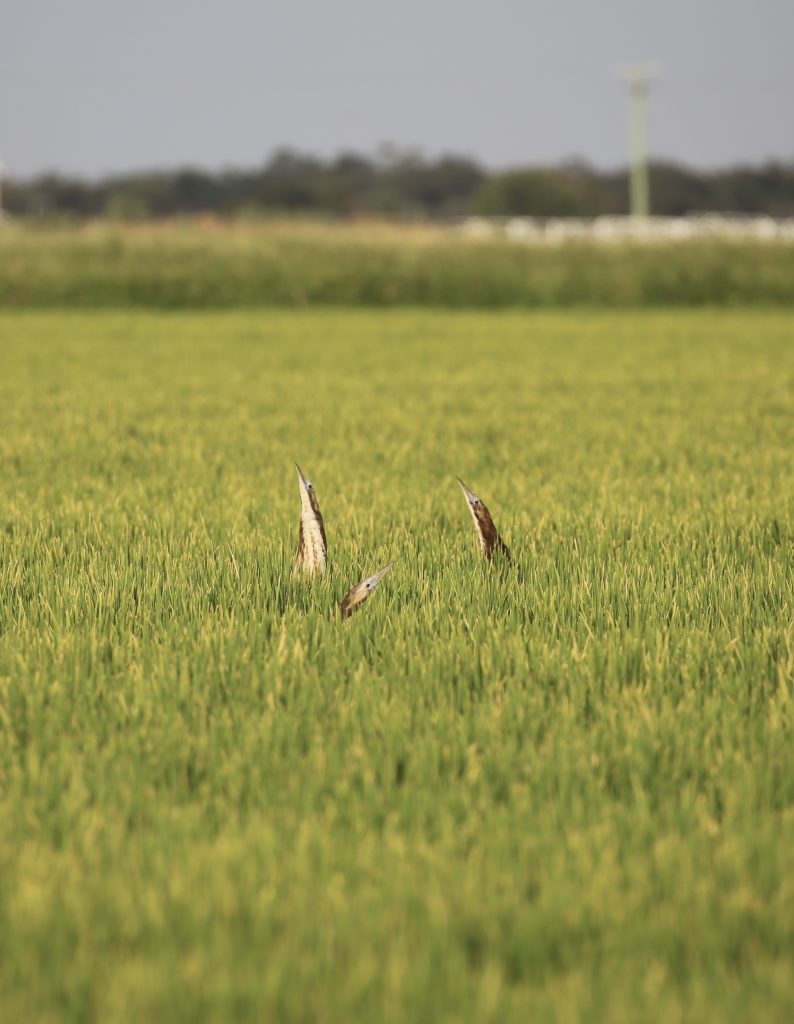 Bittern-friendly rice, near Griffith, 2020.
In summary, the incentive sites attracted four times as many bitterns as the control sites, and successful breeding was recorded. Despite it being another difficult season with drought and low water allocations, we managed to sign up six growers who agreed to meet the criteria for a total of 279 hectares of bittern-friendly rice. We also monitored 308 hectares at control sites across seven additional rice farms. In total we had 22 sites – 11 bittern-friendly and 11 controls – and the contrasting results were very encouraging.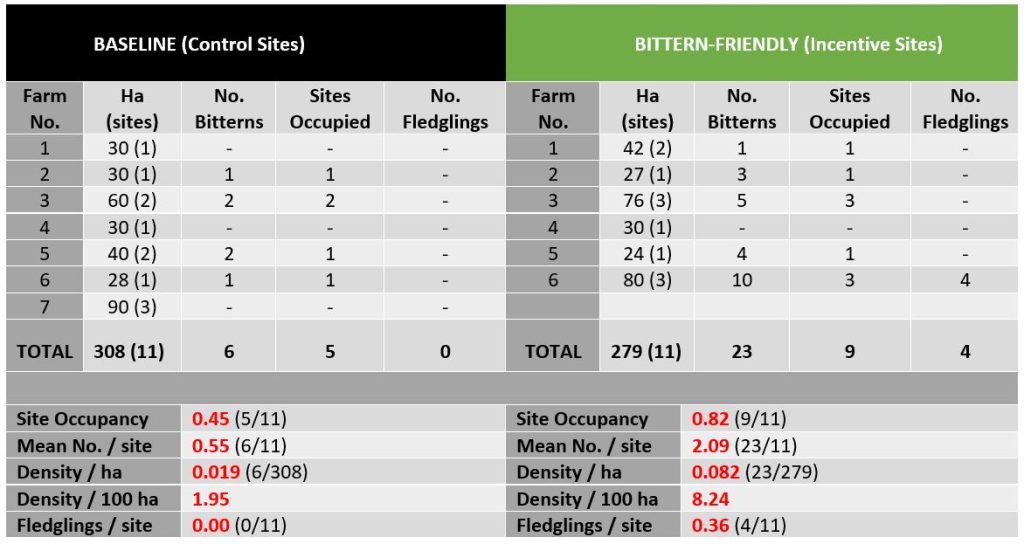 Monitoring results from the 2019-20 rice season, showing four times as many bitterns at the incentive sites.
SAVING THE BITTERN: A new 4-minute film about bittern-friendly rice from SunRice.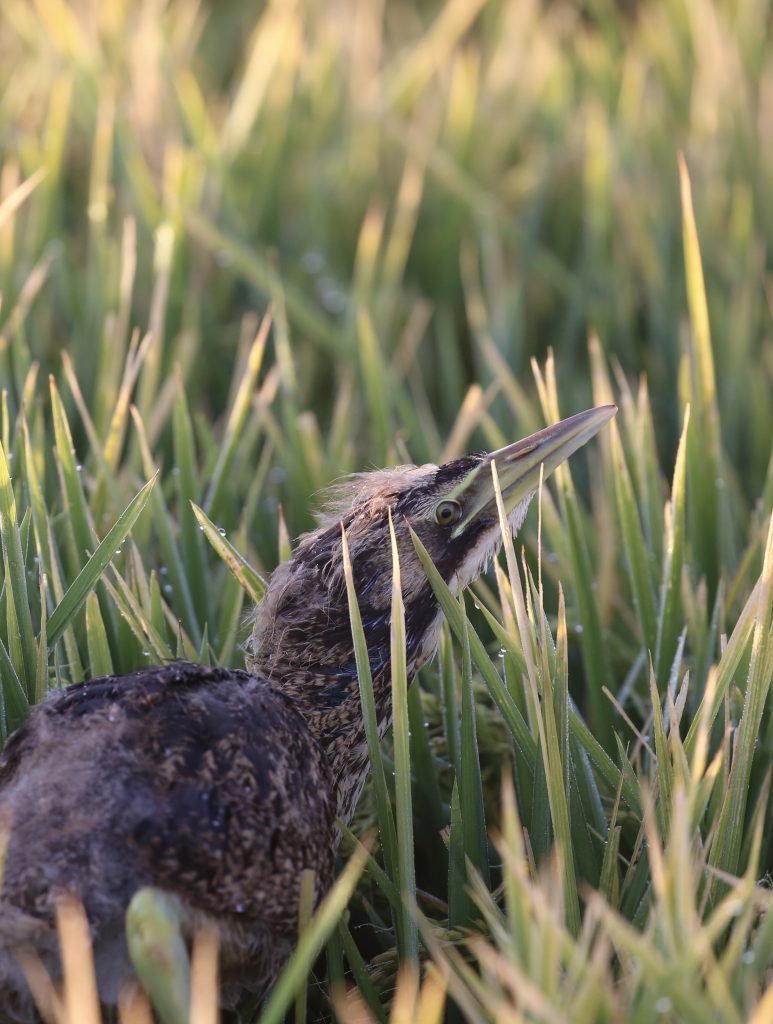 One of four chicks, already over two weeks old, located at a bittern-friendly rice crop in February, 2020.
The incentive program focuses on encouraging early nesting and maximising breeding success. Early permanent water is central and needs to involve ponding by the end of October, with a minimum period of inundation of 130-150 days, depending on the incentive level. It's all about providing a sufficient ponding period to facilitate successful bittern breeding. We suspect the early ponding is also important because the invertebrates, frogs, fish and other bittern prey have time to establish for two or three months before nesting commences.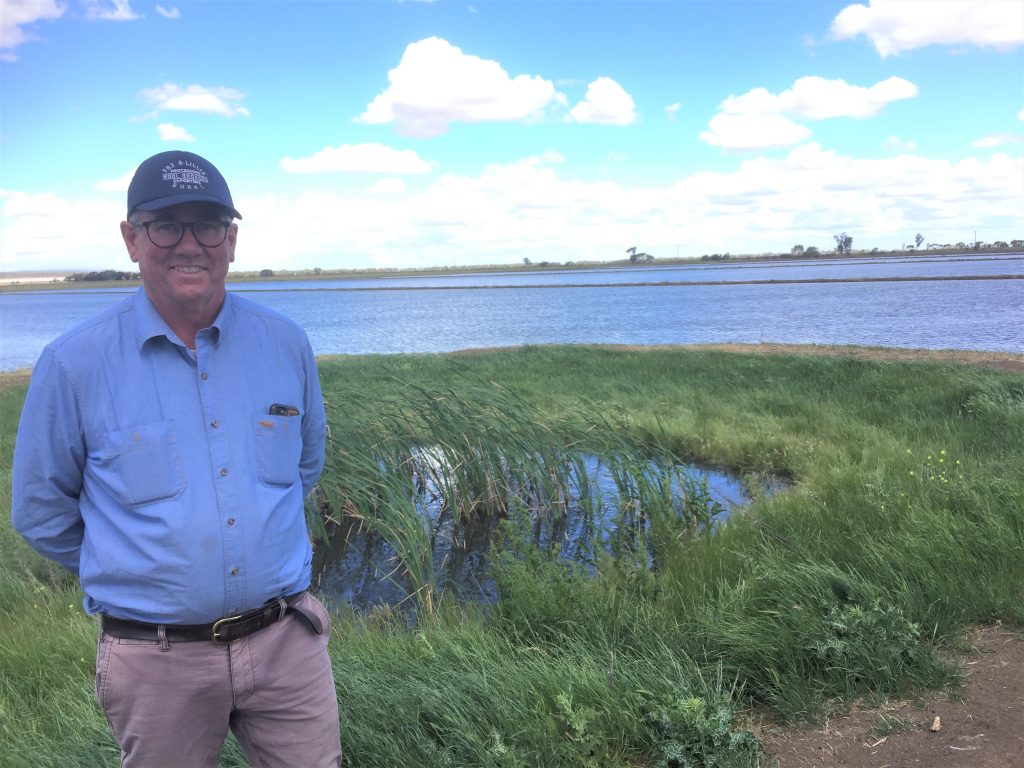 This is Scott Williams, one of the bittern-friendly rice growing trailblazers. He got the permanent water on his crop by October 17th and trialed additional urea to grow small patches of taller, thicker rice that could encourage earlier nesting.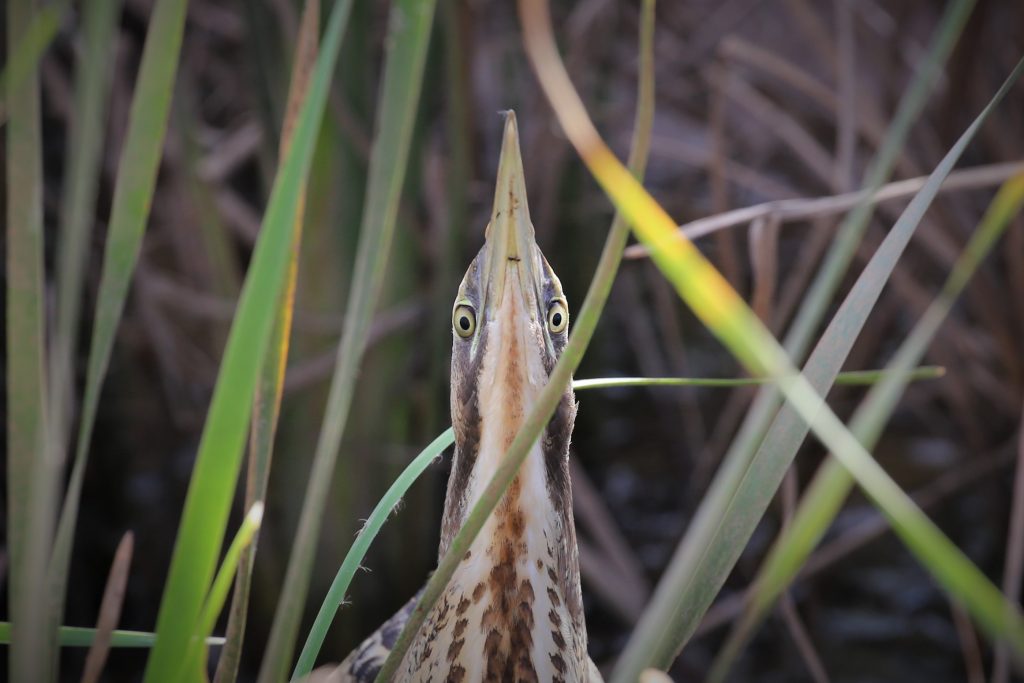 Maintaining grassy banks and providing adjacent habitat refuges like vegetated channels are part of the incentive criteria and we found bitterns like this one taking advantage of these habitats throughout the season. An intense fox control program was also undertaken around each bittern-friendly farm.

It was a strange season for bitterns, with little or no breeding across key sites in the broader region. For example, there was no booming at Fivebough Swamp, Leeton, with local birdwatcher Keith Hutton saying this was unusual but not unprecedented. And for the first time in eight years of monitoring, there was no booming in rice during early January, normally the best time. Our only booming began in mid-January, from just two rice farms, but the results at one particular bittern-friendly crop were outstanding, with at least ten bitterns across its 80 hectares, plus four thriving chicks that got so big we assumed they fledged just in time for harvest.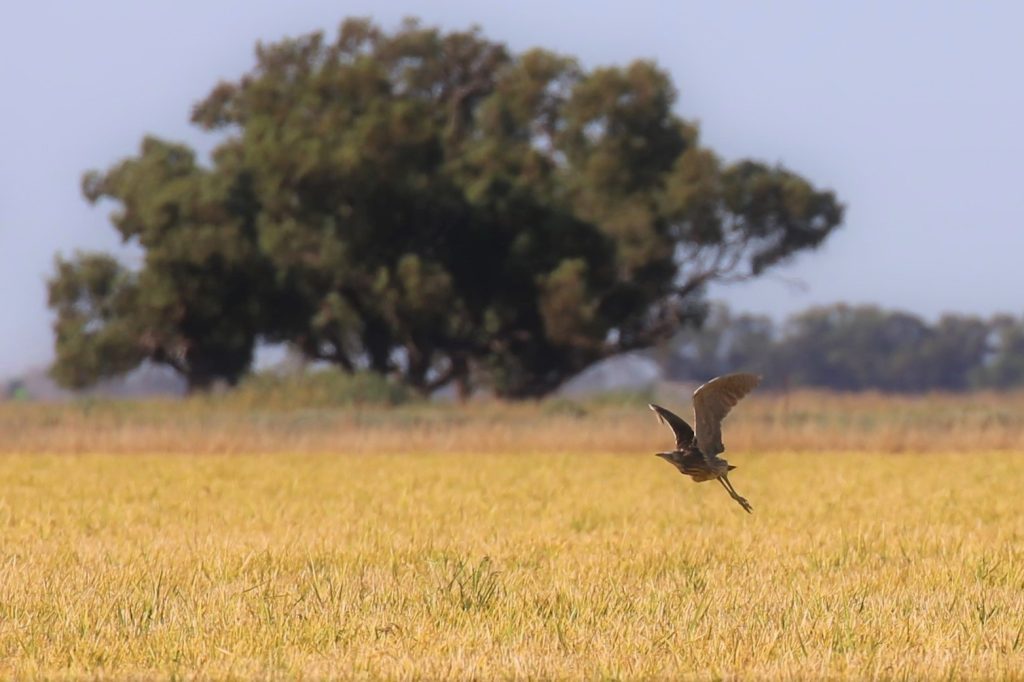 The chicks were relocated two weeks later in mid-March, already 200 metres from the nest. They were now 4-5 weeks old and still being fed by their busy mother.
The design of the incentive program has drawn on my research at Charles Darwin University with Professors Kerstin Zander and Stephen Garnett, supported by the Threatened Species Recovery Hub, as well as all we've learnt over the past eight years with The Bitterns in Rice Project. It was a rough start to the incentive program, with another record low Riverina rice crop, but the results are certainly encouraging. Thanks to everyone for their support. Here's a couple more images from this season, and some thermal drone footage. Remember, you can always keep in touch via our Facebook page, or on Twitter.
Two bitterns in two minutes. It's rarely this productive but here's some more thermal drone action from summer of Australasian Bitterns hiding in rice crops. The flying birds are Whiskered Terns. #bitternsinrice #bitternfriendlyrice #wildlifefriendlyfarming #ornithology #wildoz pic.twitter.com/JYvMhVbiXM

— Matt Herring (@Matt_HerringOz) April 21, 2020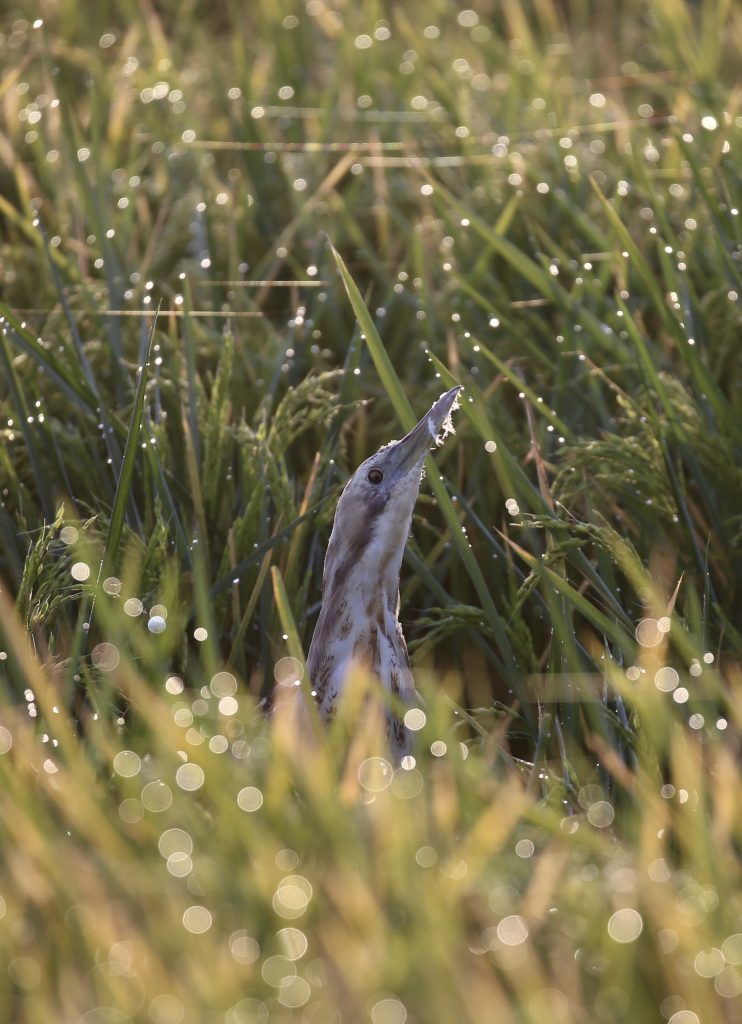 Early morning preen before breakfast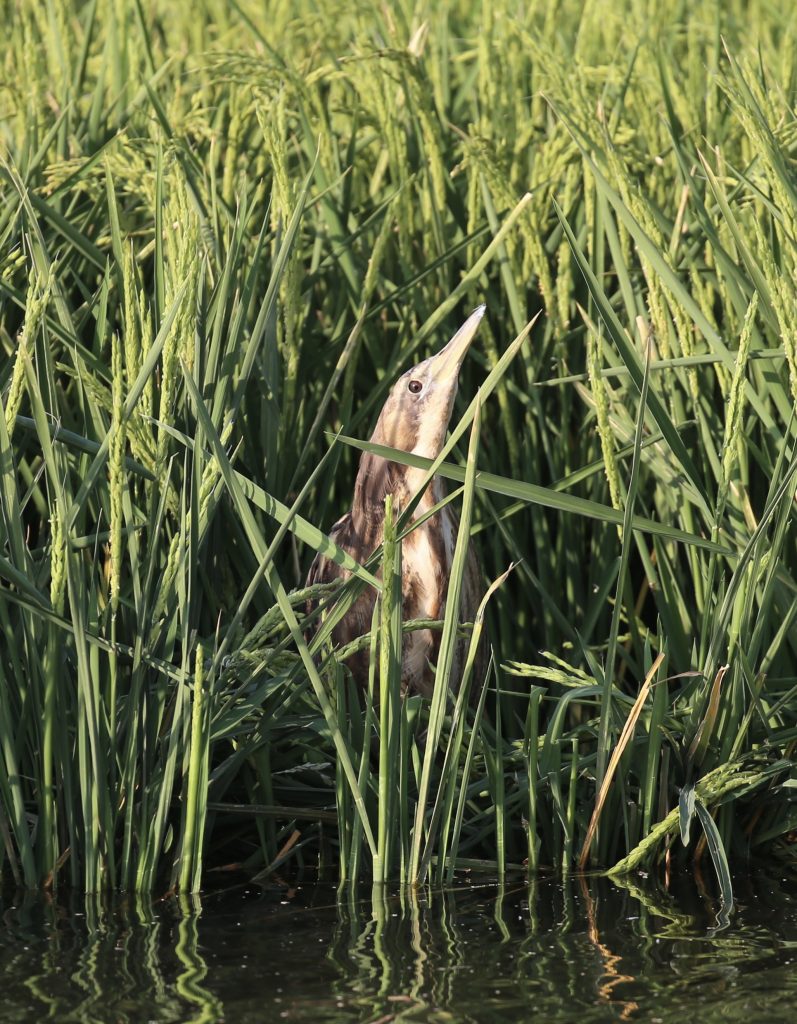 Good fishing at the edge